Should you buy Freehold or Leasehold property?
As a real estate professional, this is probably one of the most common question I get? Property buyers are always asking and comparing their property purchase based on the tenure type. Most favouring the freehold option but at the same time lamenting about how expensive it is.
Before going into in-depth discussion, let's first define the different tenure types in Singapore.
3 Types Of Condo Tenures In Singapore
Freehold
99-year leasehold
999-year leasehold
The above are the 3 tenure types in Singapore. For this discussion we will just treat 999-year leasehold as freehold as well.
The common understanding is that freehold properties can be held indefinitely by the buyer, while 99-year leasehold properties will revert back to the state after the tenure ends.
The general consensus among buyers are:
Freehold cannot be taken back by the government
Freehold can be handed down to the next generation
Freehold carries a higher value then leasehold
Is it really true? Let's explore further.
Clearing the Myths.
Freehold
The most common myths is that the government cannot take back a freehold property and that the property owner will be able to hold on to it for life and hand it down to the next generation. Under the Land Acquisition Act, the government can take back the property at any time, if it is sitting on a site embarked for future development, regardless of the land tenure.
Another common myth is that freehold developments cannot be put up for en-bloc sale. If the majority of residents within your development voted for an en-bloc, it will pass through and you will still have to sell your home. In fact, freehold properties can fetch higher prices than leasehold en-bloc.
Freehold developments carry higher market values then leasehold. This is yet another yet, as the value of any property is not based on one factor. Things like location, MasterPlan, accessibility to MRT and near by amenities, and schools are all influencing factors. A leasehold condominium located in the Central Business District is going to carry a higher value than a freehold condominium in Jurong.
Leasehold
Leasehold property value will drop over the years as the lease shortens. When it reaches 40 years left on the lease, banks will restrict the financing the sale of the unit; within 30 years left, potential buyers won't even be able to withdraw their CPF to fund their purchase. While this is true, by the time the lease is close to expiry, most leasehold will be put out for en-bloc for potential developers to take over.
Leasehold developments have lower market value– myth again. As mentioned above, the value of your unit depends more on its location, and many other factors.
Market Value – Freehold vs Leasehold
One of the most common reasons property buyers in Singapore opt to purchase a freehold property is because it's perceived higher. Based on the assumption that a leasehold and freehold condominium are located in the same area and enjoy the same facilities, be prepared to pay approximately 10-15 percent higher for a freehold property.
However an interesting observation is this that for both freehold and leasehold development, the price appreciation are on par for both type of tenure during the earlier years.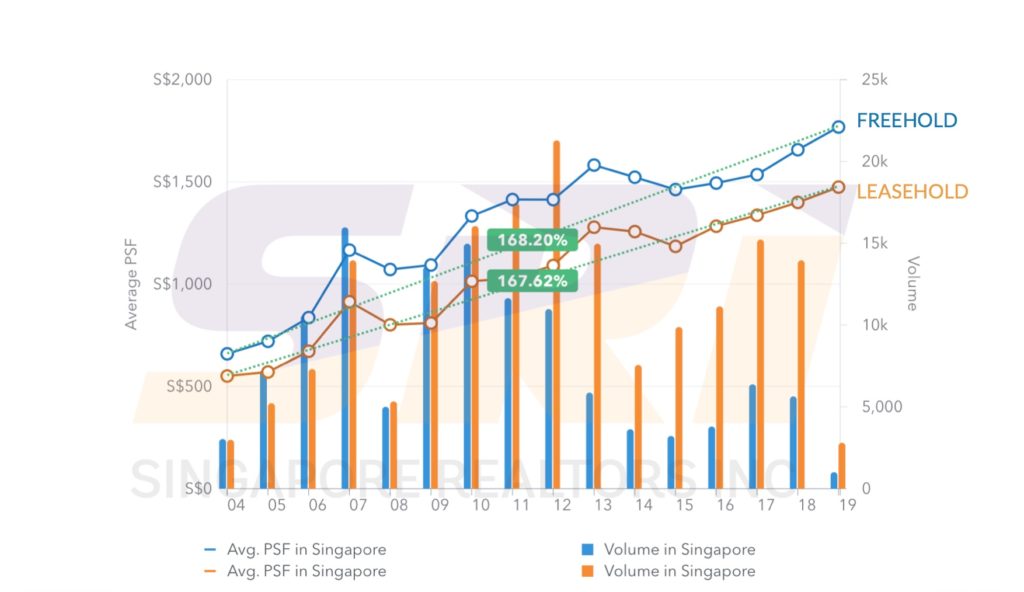 If the condominium has more than 78 years left on the lease, its value is usually still equivalent to a freehold condo. Only when the lease hits the 78-year mark does its value start to decline, as buyers starts to factor in the subsequent exit pricing. The difference becomes even more significant when the lease hits its 40-year mark, as banks restrict the amount of loan for buyers and CPF usage are cut off when the lease goes below 30years.
Leasehold Properties Gives Better Rental Yields
This is true that freehold condominiums in Singapore fetch lower rental yields than leasehold condominiums. This is because the initial sale price of freehold condominiums are approximately 10 percent to 15 percent higher than nearby leasehold developments. Tenants are not concern about tenure of the property so they will offer the same price regardless of tenure. So with a lower investment and monthly mortgage the calculation of rental yield will be better for leasehold.
So, Freehold Or Leasehold?
The final decision is one that you as a property buyer has to make. Factors you have to think about:
How much are you willing to pay upfront now? Are you willing to pay 10-15% more?
How long do you see yourself staying in this property before selling it off? 10years, 20year, 40 years or longer?
Is this for own stay or investment for rental potential?
What are the other favourable factors surrounding this project? (Location, Masterplan Development, Accessibility, Amenities, Schools etc..)
I know it is not a simple task and an important decision for most people. Perhaps having a non-obligatory chat with me could give you some fresh perspective. Feel free to contact me via email at willliamtanpc@sri.sg or call me at 65-93863406.
William Tan
If you are a property investor, or simply thinking about selling and and buying a property. Feel free to contact me for a non-obligatory discussion. I am happy to share different options to help you craft a strategy to meet your objectives. You reach out to me via the contact tabs on this website, OR Email: williamtanpc@sri.sg ; Mobile: 65-93863406.