Leedon Green: A new benchmark for luxury in District 10
The ever-changing landscape of a bustling first-world country like Singapore means that you're never far from a newly constructed building. It's an impressive feat, but the downside is that developments that truly take our breath away are few and far in between.
There is, however, one development that is making one sit up and pay attention.
Leedon Green, a freehold luxury condominium, is now the largest new residential development in the vicinity. It takes up over three hectares worth of land – about the size of three Marina Bay Sands SkyParks, where the famous infinity pool is located, combined. The architectural marvel is built by property developers MCL Land and Yanlord Land.
The 638-unit residence is brimmed with lush, undulating terraces and was conceptualised by DCA Architects and Ecoplan Asia. In order to fulfil the developers' vision of a bespoke high-end resort, the generous grounds of Leedon Green are peppered with relaxation nooks – from spa pavilions with massage beds to private jacuzzi cabanas and water lounges.
In line with the resort feel, an on-call concierge service is provided for residents, and given the prestige that accompanies the Leedon name, it is sure to add top-notch hospitality to District 10's very own paradise.
BLENDING NATURE WITH ARCHITECTURE
To translate the site's natural terrain into a residential-friendly design language, the architects kept the iconic terrace silhouette but interweaved it with several long swimming pools. The residential blocks, too, are arranged in an inward-facing zig-zag formation. From their homes, residents see a manicured landscape made up of cascading waters, bush-hammered granite and a variety of trees and shrubs.
The units include a range of chic one-bedders (474sqf upwards) to four-bedders (1,496sqf upwards), with two-bedroom apartments (614sqf upwards) occupying most of the units – perfect for young professionals and couples.
For multi-generational families, the ideal home is a double-storey, four-bedder Garden Villa. There are only five exclusive Garden Villas, sized at 2,400 to 2,680sqf. Each one comes with double-volume ceiling in the living/dining areas, a family area and a junior master bedroom en suite. Each villa leads to a personal outdoor garden, making this perfect for families – local or otherwise – that want to experience the spaciousness and luxury of villa living yet retain the benefits of owning a private condominium.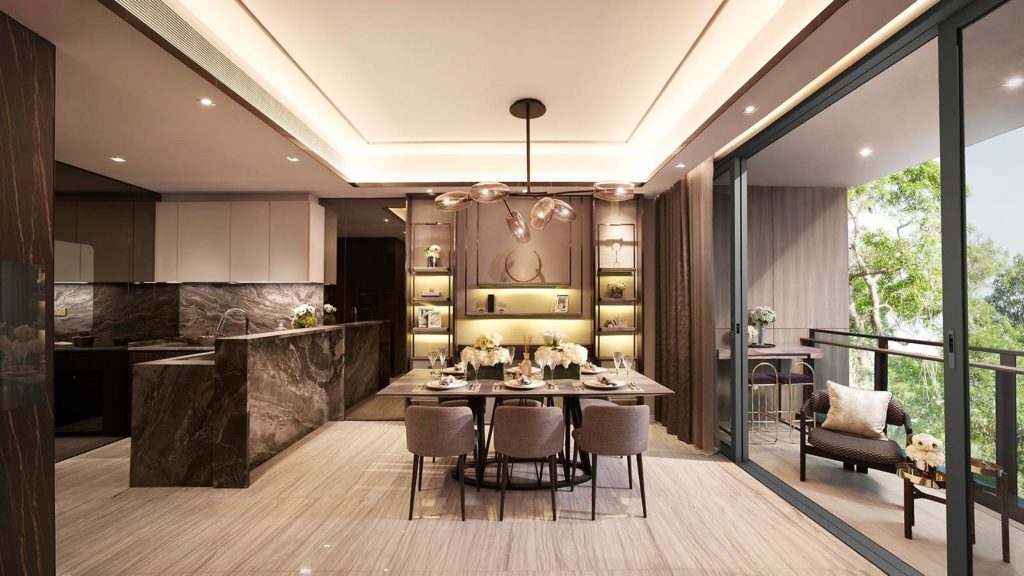 Other premium features include private elevators for four-bedroom units and selected three-bedroom units, concealed aircons in all apartments' living and dining rooms as well as master bedroom spaces.
LUXURY IN FORM AND FUNCTION
A large part of Leedon Green's appeal is the balance between luxury and practicality. The developers understand that convenience and peace of mind at home are the highest forms of luxury, so they've paid special attention to the selection of materials and essential white goods – all of which have been provided.
Interiors are stunning, of course. Interior designer PTang Studio designed the space with the affluent tastemaker in mind – one who entertains often and appreciates fine craftsmanship. In the master bathroom, stone and marble finishes are paired with award-winning German sanitary fittings from Axor and Hansgrohe, as well as minimalist Italian sanitary ware from Antonio Lupi.
Residents will be cooking out of high-performing, ergonomic Ernestomeda kitchens, which boast kitchen countertops with large format tiles from Italy. To mix it up, kitchens in larger units will feature a different colour scheme from those in one-bedder and two-bedder apartments. And with a few bar stools, the dry kitchen counter can easily double as a breakfast counter, too.
Homes also sport German-made refrigerators from Liebherr and kitchen appliances from Swiss brand V-Zug; both are premium products known for their innovation, functionality and fine design. Larger units have additional goods, namely integrated wine fridges and dishwashers.
These high-end brands were selected for their state-of-the-art technologies and have even been showcased in prestigious design fairs like Salone Del Mobile and Maison&Objet Paris. To match the sleek features, every unit is equipped with smart home features such as digital locksets, home surveillance cameras, and the ability to control air-conditioners remotely.
All four-bedroom and Garden Villas, as well as selected three-bedroom units, come complete with smart mirrors that can play music and videos as well as be connected to social media platforms and food delivery services. Get the smart mirror to show recipes effortlessly, too, when connected to Google Voice Assistant.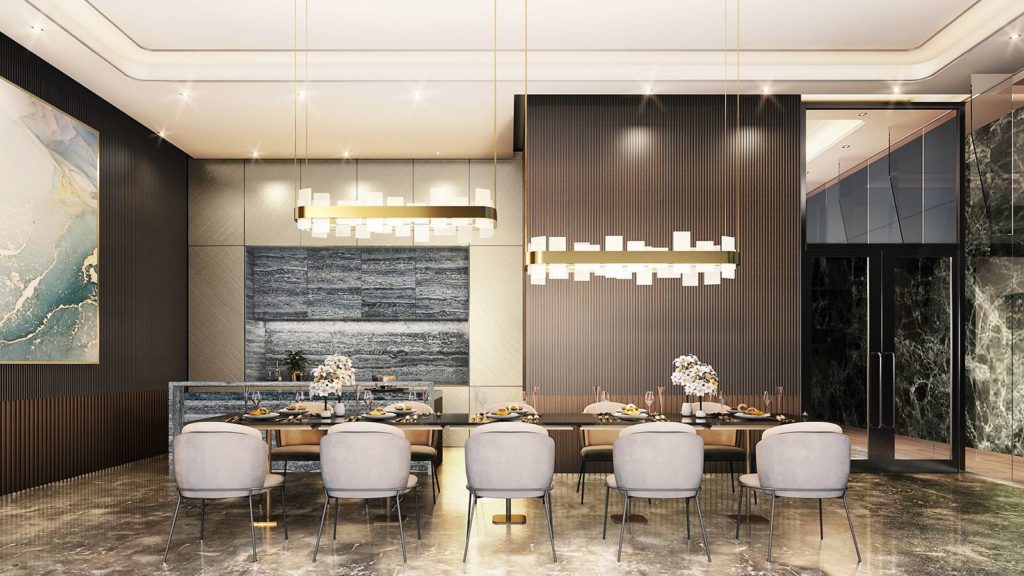 CONVENIENCE AT THE HEART OF SINGAPORE
Nestled within the enclave of a gazetted Good Class Bungalow area, residents can enjoy serenity and privacy without compromising on convenience. A comfortable and accessible journey in and out of Leedon Green's sprawling grounds is ensured with two entrances: One at Leedon Heights, the other at Holland Road. This gives residents easy connectivity to the Ayer Rajah Expressway.
Leedon Green is just as well-placed for public transport. It takes under eight minutes to get to Farrer Road MRT station. The Circle Line loop will also be completed with three new stations in 2025: Keppel, Prince Edward Road and Marina Bay.
There are plenty of prestigious schools in the area, such as St James Kindergarten, Nanyang Kindergarten, Nanyang Primary School (within 1-2km), Hwa Chong Institution and National Junior College. Meet all your educational needs from preschool to tertiary here.
The cuisine options around Leedon Green are a big draw of this location. With excellent eateries around every corner, foodies will have a field day. After a stroll around Unesco World Heritage site Singapore Botanic Gardens, one can experience fine dining at Corner House, a restaurant located in a magnificent black and white bungalow and that serves an innovative gastro-botanica menu.
If you're in the mood for a hearty dinner, try the Greek cuisine at Blu Kouzina along Dempsey or Brazilian nosh at Brazil Churrasco on Sixth Avenue. Want to stay in and play host? Throw a party and shop for ingredients at Jones the Grocer and Cold Storage. Leedon Green is also a stone's throw away from the Orchard Road shopping belt for the premium retail therapy experience in Singapore.
Exclusivity and luxury may be the initial draw for Leedon Green but its connectivity and closeness to nature make it the ideal home for those seeking a sanctuary in the city. 
For enquiries or to schedule a showflat viewing, call 93863406 or email williamtanpc@sri.sg
This advertorial first appeared in channelnewsasia.com in partnership with 99.co.
William Tan, Property Advisor
If you are a property investor, or simply thinking about selling or buying a property. Feel free to contact me for a non-obligatory chat. I am happy to share different options to help you craft a strategy to meet your objectives. Email: williamtanpc@sri.sg ; Mobile: 65-93863406.